The 1,000-year camera...
...and other ways to fight chronic 'short-termism'
Hey everyone —
John here from the BASELINE project.
Before we get rolling, I wanted to say a quick "thank you" on this Giving Tuesday for your attention to and ongoing support of this project, which is visiting four locations on the frontlines of the climate crisis, every five years, until 2050. And a request: If you're thinking about year-end donations, please consider BASELINE. Donations through our fiscal sponsor, UnionDocs, are tax-deductible in the US. And they'll go toward what I believe is the critical cause of us creating a climate documentary on an unprecedented timeframe, something just a little bit closer to Earth Time. This is a life's-work sort of project for me. I truly do appreciate any support you're able to offer. Also, if this is not the right time for you, totally cool. Maybe forward this email to a friend, encourage people to sign up for the newsletter, or retweet one of these guys?
We're already 30% of the way to our goal. (Thank you!)
BASELINE + HEATED + an (almost)-unwinnable game!
One other bit of housekeeping: Check out this conversation about BASELINE and other rad climate storytelling projects hosted by the Nieman Foundation. Featuring yours truly, Emily Atkin (subscribe to HEATED if you don't already, it's a newsletter for people who are pissed about the climate crisis) and Rosanna Xia from the LA Times. (Rosanna's mondo feature on sea level rise in California is a true must-read… and that's not even to mention the badass game the paper developed that helps you weigh all of the non-good options facing you as a town on the California coast).
I'm at the top, in the Mr Rogers sweater. Followed by Rosanna and Emily. Then Q&A.
OK, now three quick notes on projects I know you'll love. Because they deal with the climate crisis and environmental change and humans, all on impressive timescales.
And then I have one more favor to ask re: an upcoming interview.
Walking the path of human migration
First project you'll love: Paul Salopek's "Out of Eden Walk."
Many of you probably have read about Paul's effort, with support from National Geographic, to walk the ENTIRE path of human migration out of the Horn of Africa, into Asia, across the Bering Strait, to Alaska to… who knows. It's freaking wild.
Here's the map: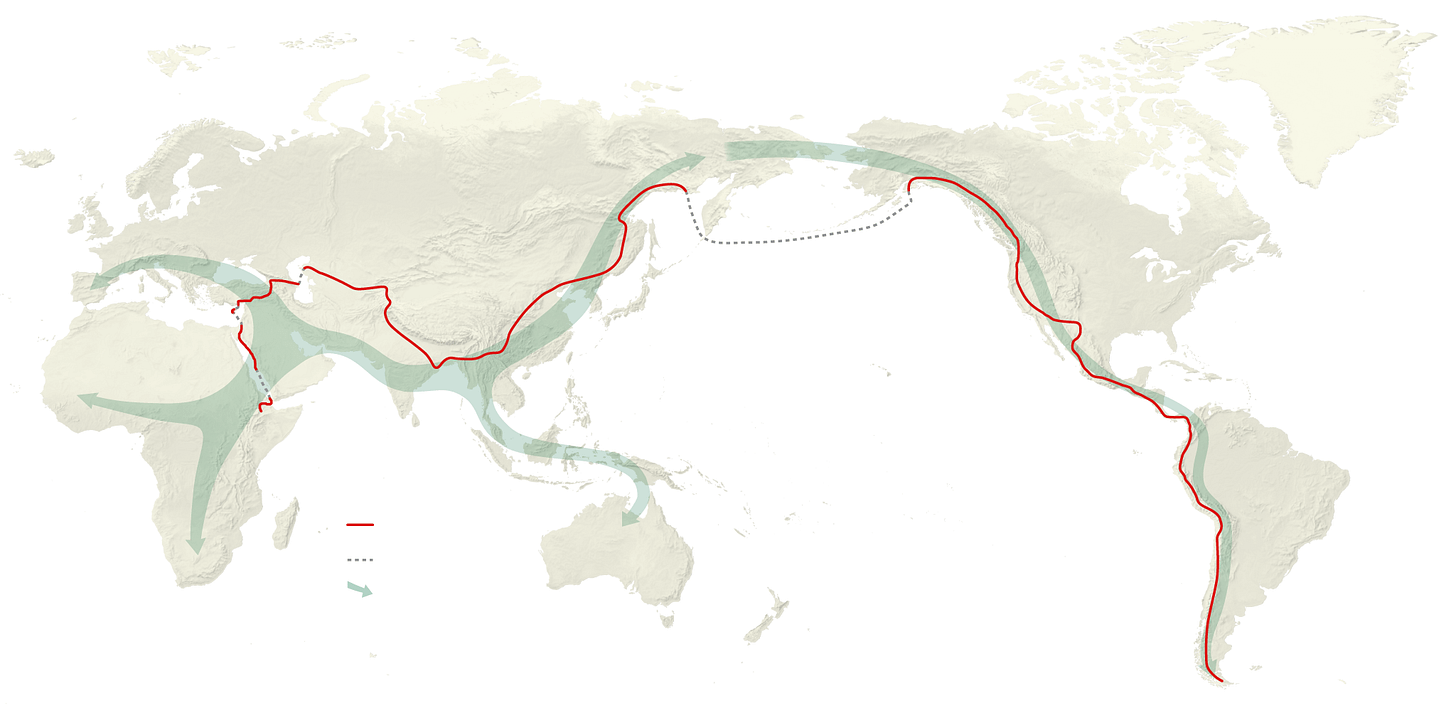 Reminder: HE IS WALKING THIS.
I mentioned this to a friend recently to which the friend replied: What, I've never heard of that? (You know who you are). So on the off chance you, too, are not following Paul's incredible journey, please checkout his Instagram and Twitter and make it a habit. The trek is wonderful and beautiful and sad and historically rich. You won't be sorry. Plus, I love that Paul popularized the term "slow journalism" in reference to the deliberate and thoughtful process of taking in material, processing it, and telling a BIG story.
Here's how he described it in a 2015 interview:
"Slow journalism allows me to make hidden connections that you miss when you travel too fast," he said. "The world is complicated, and we require more than just short bits of information."
It's obvious that BASELINE takes inspiration from this work. Paul was the first Knight Visiting Nieman Fellow at Harvard. And I cooked up this idea for the BASELINE series on that fellowship earlier this year, too. (If you've got a big idea you need a few weeks/months to workshop, I highly highly recommend that program).
A manifesto against 'short-termism'
Second, please take a moment to read this wonderful essay on "short-termism," which Richard Fisher, who is a Knight Science Journalism Fellow at MIT, calls "civilization's greatest threat" and "one of the most dangerous traits of our generation."
This is just the top of it:
Modern society is suffering from "temporal exhaustion", the sociologist Elise Boulding once said. "If one is mentally out of breath all the time from dealing with the present, there is no energy left for imagining the future," she wrote in 1978. We can only guess her reaction to the relentless, Twitter-fuelled politics of 2019. No wonder wicked problems like climate change or inequality feel so hard to tackle right now.

That's why researchers, artists, technologists and philosophers are converging on the idea that short-termism may be the greatest threat our species is facing this century. They include philosophers arguing the moral case for prioritising our distant descendants; researchers mapping out the long-term path of Homo sapiens; artists creating cultural works that wrestle with time, legacy and the sublime; and Silicon Valley engineers building a giant clock that will tick for 10,000 years.
3. Also: A 1,000-year camera
Then there's this: A 1,000-year camera by the artist/philosopher Jonathon Keats.
From Vice News:
Keats' placed his Millennium Cameras at four locations around Lake Tahoe. Each camera is made of copper and is only 2.75 inches long and 2.25 inches in diameter. Inside the camera is a sheet of 24-karat gold pierced by a small hole. As light passes through this small hole, it causes a reaction with the rose-colored pigment inside the camera, which causes the color to fade where the light is the brightest. This will slowly imprint an image on the pigment over the next 1,000 years.
I'm obsessed with this idea because it forces people to think on Earth Time, which is very difficult to do. I chatted with Keats briefly last week, on my way to family Thanksgiving. We're going to do an e-mail Q&A about his project. And that's where the other favor comes in: What do you want to know from Keats about his "Millennium Camera"? What other projects — artistic, journalistic, scientific, otherwise — have you seen documenting long timescales? If you send me some questions and ideas, I'll include the best of them in a future newsletter.
Thanks for following along, and for being part of this!
More soon.
— jds
---
This newsletter is written by John D. Sutter, director of the BASELINE documentary series. Sutter is a National Geographic Explorer and CNN climate analyst. Follow him on Instagram, and consider making a tax-deductible donation to the project. Email him with tips.